Compression without the complexity - Hartmann's Putter Pro 2
According to recent statistics, chronic venous insufficiency and leg ulcers affect approximately 1-2 people per 1000 of the general population, with approximately 10-20 people per 1000 developing ulcers during their lifetime. Ulcer healing rates can be poor with up to 50% of venous ulcers present and unhealed for 9 months (https://www.anzvs.org.au).
Unfortunately ulcers that don't heal can have a detrimental impact of the overall health and wellbeing of the patient, as well as cause significant economic burden. There are several challenges with existing compression therapies, most of which focus on poor product compliance. Having a compression solution that's easy to use and patient friendly will increase compliance and ultimately create better healing outcomes.
PuetterPro 2 is the new two layer bandage providing inelastic compression that lasts for 7 days. The main indications for PuetterPro 2 are venous leg ulcers and chronic venous insufficiency. In summary, chronic venous insufficiency is a term used to describe the changes that can take place in the tissues of the leg, due to longstanding high pressure in the veins. This high pressure in the veins usually occurs because blood flow in the veins is abnormal, secondary to valvular incompetence, causing reflux (reverse flow) in the veins. (https://www.anzvs.org.au).
So how does PutterPro 2 help with greater blood flow? It's the combination of short and long stretch bandaging that provides the ideal mode of action. The padding ensures the stiffness of the applied bandage when the patient is active (short stretch). In contrast, the outer layer ensures the upkeep of resting pressure after several days because the short stretch compression bandages decreases over time (long stretch). So having the combination of dressings ensures resting pressure is maintained for up to 7 days to the shape of the leg.
Key points about Putter Pro 2:
Latex free
7 day wear time
High patient comfort
No measurement of the leg circumference required
One size fits all
Conformable and soft first layer
Less likely to have slippage due to the cohesive nature of the bandage
So why not try Puetter Pro 2 Today: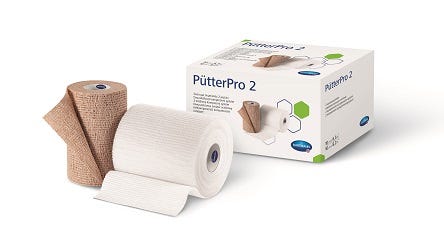 Hartmann helps take the complexity out of compression.