Helping Men Regain Control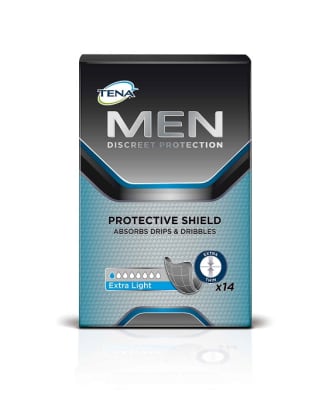 There are many things in life that aren't talked about enough. One such subject is men's health – especially urine leakage. One in eight men experience bladder weakness within their lifetime. That number increases to one in four men over 40. It can be a difficult subject to discuss, even with health professionals.
For men experiencing light leakage, TENA have introduced Protective Shields in black for men. The black shields are less obvious in black or dark underwear and do not look like feminine hygiene products. They are the first and only black disposable continence products for men on the market.
"TENA Men Protective Shields may be a man's first introduction to these products. Our unique black shields are intended to be as discreet as possible to blend in with men's underwear." explained David Higgins, General Manager National Sales B2B, Asaleo Care."
The shields are anatomically shaped for men and only three millimetres thick for a comfortable fit. They provide security against small leaks, drips and dribbles and in turn provide with the confidence to wear anything.
Research has revealed a staggering 95 percent of men with urine leakage issues are not using purpose-made continence products. Managing urine leakage and finding the right continence product can be a confronting prospect for many men – however thanks to products like the Black Protective Shield, TENA is making it easier for men around the world to manage their urine loss and regain control.
For a free sample call Independence Australia on 1300 788 811