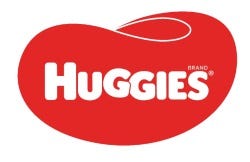 Huggies is a world-renowned brand trusted by mothers worldwide as their products are made from the finest quality materials. Huggies nappies will give your baby a comfortable fit no matter what stage they are in. Huggies nappies leave breathable space so that your little one's skin stays soft and rash-free. Huggies nappies have several innovative features like gentle and absorbent liners, double grip strips and leak lock protection. From your child's first hug to their first steps, huggies nappies are with you during every step of your journey into motherhood. From its gentle absorbent protection, to double grip strips and more, Huggies nappies are constantly innovating their products to bring the most comfort and protection to your baby.
Huggies Ultimate nappy is avaliable as a nappy or nappy pant and offers soft comfort and care. The new and imporved Huggies Ultimate nappy range is made from plant-derived materials sourced from renewable sugarcane.
Huggies Ultra Dry nappies offer up to 12 hours of leakage protection and have been tailored specifically to cater to the different absorbency needs of boys and girls. Made for all day and night, Huggies Ultra Dry Nappies feature breathable comfort, leak shield and a soft, stretchy comfortable fit. 
Huggies Essentials nappies too boast 12 hours leakage protection and feature a wetness indicator which lets you know when baby is ready to be changed. Each Huggies Essentials nappy features super absorbency with its exclusive leak lock system, drawing moisture away from the core. 
Independence Australia offers a range of resources to help you in finding the right Huggies nappy product for your baby.
Looking for help with sizing? View our Huggies nappies sizing guide here 
We have answered your toilet training questions here