How do I place an order?
Order Online
We've made our online ordering system easier to use. You can even use your NDIS funding to order online - learn how to place your NDIS order here
We've also created a simple step by step guide to assist you to order online. You can find our guide to online ordering here.
Post, Fax or Email Orders
Complete an order form and post, fax or email this with your details to the address below:

Click here to download our Order Form

Post: Independence Australia
GPO Box 9910 in your capital city

Fax: 1300 788 811

Email: Please email your completed order form to customerservice@iagroup.org.au for placing orders.
When is Independence Australia open for business?
Independence Australia's online shop is open 24 hours, 7 days a week.
Our Customer Service team is available Monday to Friday 8am to 7pm (AEST), 8am to 8pm (DST).
Is there a minimum order quantity or value?
No. You can order as little or as much as you require. All our products are available in the smallest units possible.
Do I need to log-in or have an account number to shop online?
Yes, to create an account:
1. Click on the 'Register' button at the top right-hand corner of the page and complete the online form.
OR
2. Enter details in the checkout page under Shipping Address.
A confirmation email will be sent to the email address provided.
Can I get more information about products?
Yes. Our highly trained Customer Service team can provide information on a wide range of products. Our team is kept up to date on new products and technological changes through a rigorous in-house training program provided by our suppliers and manufacturers. Please note any advice obtained from our Customer Service team cannot be substituted for clinical advice.
For more information, please fill out our online product enquiry form here.
Can I make changes to my order after it has been processed?
Unfortunately, due to the speed of processing it may be difficult to make updates to your processed order. If you need to make any changes to your order, please contact us immediately so we can check the status of your order.
What does "back order" mean?
A back order is an item that is currently out of stock.
How will I know if any of my goods are on back order?
After you place an order, login to your online account:
Click 'Web Orders' for orders that have been placed online
Click 'Account Orders' for orders that have been placed over the phone
Your invoice also has a column that shows the quantity on back order (see "Back Order Qty").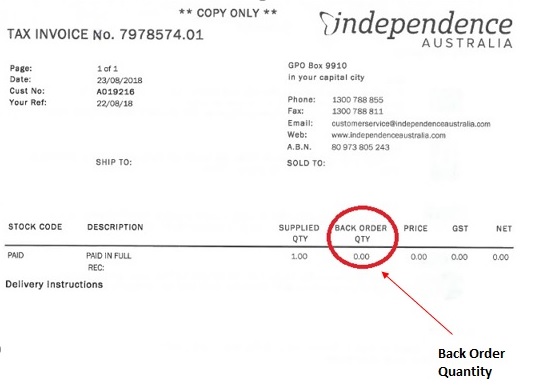 How do I follow up an order I've made?
A Customer Service team member can be contacted by email customerservice@iagroup.org.au to follow up an order you have made.
Or you can fill out our online product enquiry form and our Customer Service team will get back to you shortly.
Note: You will be asked for your Order Confirmation number, which was sent to your email address after you have placed an order. This can be found in the example below.